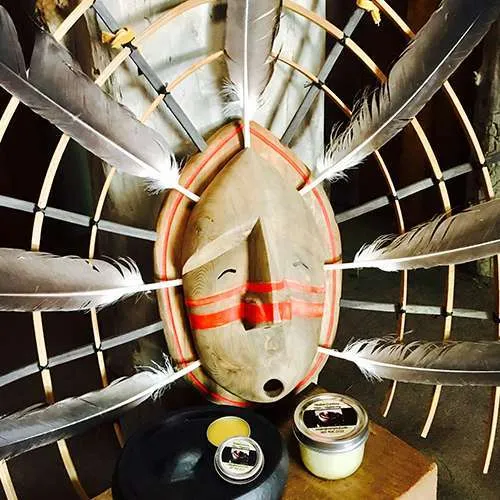 Welcome To
Riiglluk Creations
Our tribal healer creates organic lip balms and salves for your everyday dermatology needs.
Made in Alaska with 100% natural ingredients.
"Riiglluk Salve works wonders! I could feel it working instantly the first time I put it on. After years of suffering with horrible ecsema, I am finally confident I have found something that finally works. Thank you!"
-Cindy O, Shishmaref, Alaska
"I first purchased this for treating itching mosquito bites. It works great for that. Then I purchased a larger amount of this when I found it had significant mosquito repellent properties and also was a soothing salve for dry skin. Now I have a small tin in my purse to use immediately when I get a mosquito bite to prevent itching and one at home for mosquito repellant, skin moisturizer purposes. What I didn't expect was that a very large and ugly scar I have from a badly broken ankle with a 6 in plate in one side and screws in the other has faded markedly within a few weeks of using it a few times a week. The scar was already 2 years old and was still quite visible and prominent on both sides. Now on one side the scar is something you have to search for, and on the other side about half of it has faded that much and the rest appears to have faded some but it still quite visible. Now I am ordering some for our son who recently got 19 stitches. I think it will help the scar fade much faster than usual."
-Martha Rhoades
"I purchased this product at the Alaska Native Heritage Center. After the first night, it got rid of two dry patches I have had on my temples for years. Gone. And, it has helped my bumpy rosacea a little bit. I've also used it on the dry cracked eczema on my hands, it is very soothing & the eczema is much better. It never completely goes away, but this is MUCH better than steroids or other herbal/natural remedies I have tried. It also feels good, smells good & my skin looks & feels much better."
-Mimi Odell
"I purchased some of this while visiting the Alaska Heritage Center in Anchorage because I react more strongly to mosquito bites than the average person, getting swelling around the bites, and occasionally oozing clear liquid in addition to the usual itching. With this salve the bites stopped itching and I never got any swelling or other reaction. It is much more effective for itching than itch away or after bite sticks. Also, I think it has some mosquito repellent qualities. My husband and I drove the Alcan highway with our 5th wheel. We camped every night for 6 wks. I did not use any repellent with DEET the entire time. I got less than a dozen mosquito bites in 6 weeks. In addition to using this salve I also used straight lavender oil, and occasionally another herbal repellent like Goodby Sandfly from New Zealand, or Bug Off, or Herbal Armor. I have read there is some evidence that mosquitoes in some areas are developing resistance to DEET, and of course it is very toxic."
-Martha Rhoades
"This stuff works like crazy for my restless legs! It actually made it go away before I finished rubbing it from a jar that was more than two years old!"
-Thomas A, Sutton Alaska
"I had a jar of your wonderful salve. I have multiple Sclerosis and tend to have cramps in my legs and it helped with that."
-Wilmina S
Riiglluk (Stinkweed, Artemisia, Wormwood) is a medicinal plant used by the St. Lawrence Island Yupik people for many generations.